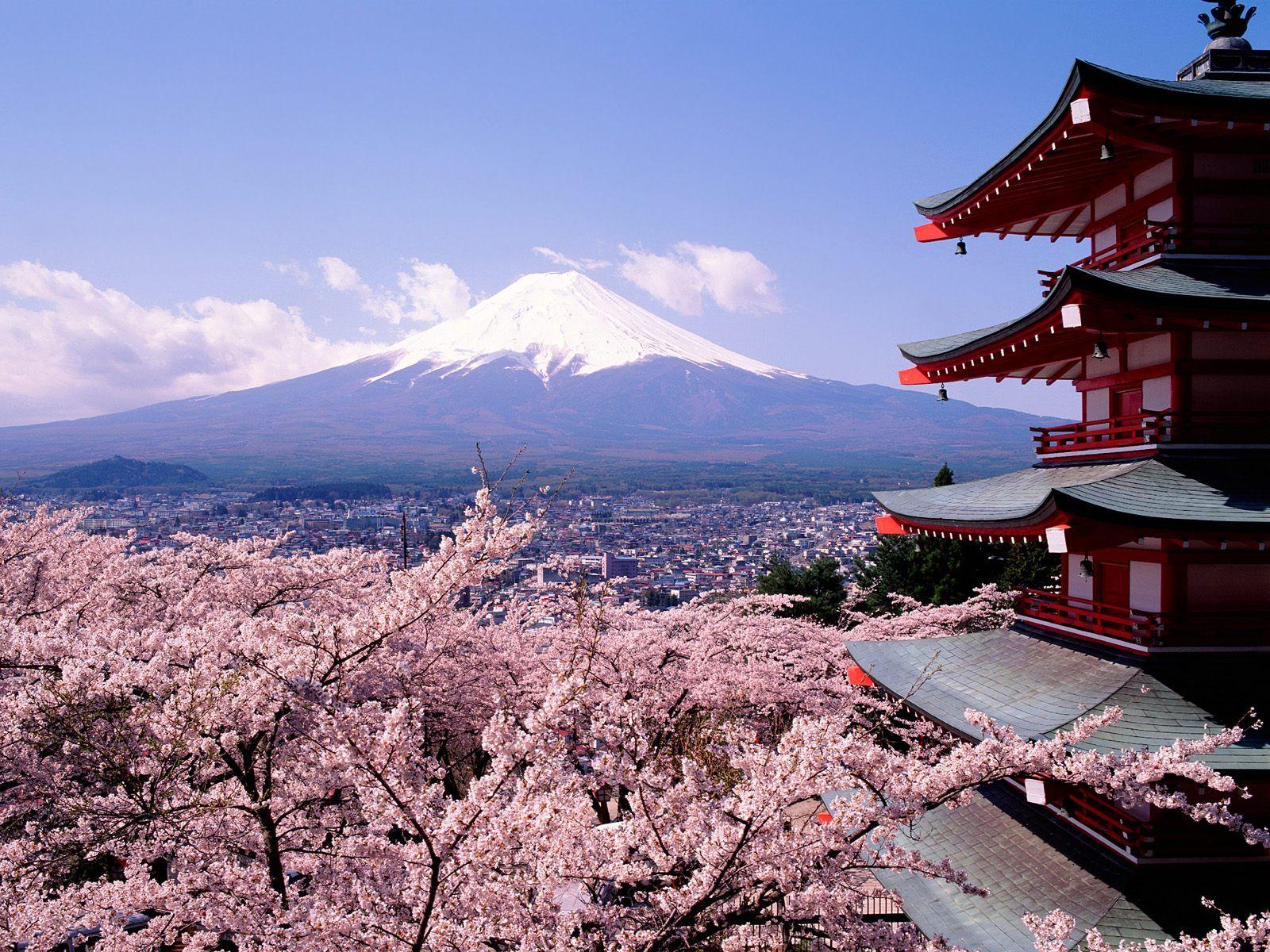 Japan known as land of rising sun is famous for its rich culture and art.In this article you will get to know about the beautiful places in japan.The content given in this article has been carefully optimized and its best as compared to any other sites.We tried our best to provide you the brief idea about the three most beautiful places in japan.
MOUNT FUJI
TOKYO
KYOTO
MOUNT FUJI
HISTORICAL AND GEOGRAPGICAL BACKGROUND 
Mount fuji is considered to be one of the beautiful places in japan. It is also called as FUJI-SAN/ FUJIYAMA / FUJI NO YAMA it is about 12,388 feet(3,776 m) tall.Near the pacific ocean in yamanshi and shizuoka ken of central honshu,it is 60 miles west to the Tokyo-yamaha.
It is a dormant volcano ,having last eruption around 1707,but still it is catagorized as active volcano by geologist .
Mount fuji is a centre  of a UNESCO WORLD HERITAGE .Its part of FUJI-HAKONE-IZU NATIONAL PARK.It's very famous and considered as sacred symbol of japan .
It has countless appearance in japanese arts,the very famous painting of HOKUSAI .
Mount fuji has it's very important significance in shinto religion .It has very magnificient beautiful sites and really awesome lake views ,makling it one of the best beautiful places in japan.
How to reach?
Reaching Mount fuji is not a big deal .We can reach Mount fuji either by bus ,train or using car the following section will provide the way we can  reach to Mount fuji using this three mode of transportation .
1.BUS
The most convinient way to reach mount fuji is by using bus,as there are several bus station so make sure you get proper route while planning for going to mount fuhi by using bus.
The most used way is from the main tokyo station to mount fuji ,below are several bus station which you may encounter (1.Kawaguchiko 2.Fuji-Q-Higland3.Lake-Yamanakako).
To reach the base camp,from where the climbing starts you need to change the bus ,the second bud is changed from kawaguchiko station wherer you will get  a local bus taking around 50-minutes to reach the Fuji-subaru line 5th station.
The frequency of buses are really good so you won't miss them.
2.Car
Travelling and reaching Mount fuji using a car is really a wonderful idea.
Beacuse you are the one who can decide how much time is to be spend on a particular stop .
Also you can enjoy and take any route you want ,using a car to reach at spot is best decision you can take if you dont have any issue's in mananging car.
The routes are same as for the bus .You just got the control of having authority about the time and stops the main advantage of car is that you can skip any stop if you want.
3.TRAIN
Train are considerably more expensive than buses and also take 1 hour more than buses.
But in return you will witness stunning views of mountain and lakes.
The train name Fuji excursion limited  express train .
It runs from tokyo to shinjuku station to Kawaguciko stop ,also one thing to note that it wont go to 5th station subashiri you need to catch local bus
ACCOMODATION
There is no issue of accomodation, but only thing is that you need is booking in advance before going to trip beause there is chance that you wont get any hotel or hostel in case if you haven't booked one .
How to book your hotel or hostel ,you really need not be worried just use below links to do booking, now don't forget to use my refral code to get extra discount
HERE ARE SOME PLACES WHERE YOU CAN FIND HOTEL OR HOSTEL TO STAY
1.KAWAGUCHIKO
It is one most favoured place to stay majority of tourist decides to stay in kawaguchiko.
As it offer stunning views and it's distance from Mount fuji is not too far ,there are large amount of hotel and hostel situated around kawaguchiko at affordable price
Kawaguchiko offers different flavour of views based on seasons ,each flavour gives satisfaction and make you feel delighted and in winter you will witness the iconic Mount Fuji covered with snow also in summer spring the cherry blossoms will make you carefree and finally the vivid colours of leaves  in autumn will please you.
Here the links and name of famous hotel and hostel , just do booking in advance to avoid last minute hassle.
2.YAMANAKAKO
It is the second most develpoed lake.
It will give you real sense of seclusion and peace.
There are cities on both side of lake offering great variety of japanese cuisine.
Mostly you will get free green tea if you are lucky enough.
The onsen hot spring will help to relax at the end of the day.
The best thing about yamanakako is the panaroma dai.
Panaroma dai offers the best view of Mount Fuji.
Below link redirect to sites where you can do advance booking don't forget to use referal code to get extra dicount.
3.FUJI-CITY
This place is used as base for mountain trreking and population here is around 250,000.This place is used as base for mountain trreking and population here is around 250,000.
This place is used as base for mountain trreking and population here is around 250,000.
It lies on the coast of the honshu.
The izakaya can be seen most ofently here.
The distance of mount Fuji is very less.
Also here you will find lot's of street shops.
It will offer you Tsuke-Napon ,the ultimate -japenese.
4.GORA
This town was made to fulfill the need of hot springs and it's kind of smack in the middle of odawara and gotemba.
The railway track's are really very fancy having multiple branching and bridges surrounded by hill's and valleys.
To reach Mount fuji from tokyo is very easy by using the route which goes through Gora and also there are onsen galore making Gora one of the coolest and best beautiful places in japan.
You can enjoy the imported and luxirious wine here and also you will get the black eggs boiled in sulphuric water in Gora.
5.HAKONE
Hakone is related on lake Ashi, in between the mountains.
Here you will find the Tokaido Road,ancient route between Kyoto and edo.
There is a pirate ship from one end to other.
There a lot of water parks ,slides ,big family pool and also theme based pool.
Theme based pool which you may see are wine,coffee,green tea and sake.
It is the tallest mountain in Japan.
It is just 100 km away from Tokyo.
The last volcanic eruption was around 1707 and it was felt till Tokyo also it's ashes were reached till Tokyo.
More than 300,000 people climb to Mt fuji every year.
The natioanal park FUJI-KAONE-IZU is the most visited national park in japan.
The road called Tokaido Road is located in FUJI-KAONE-IZU and it has severed travellers since 17th century.
The first person to clim mt fuji was a monk.
It was the first ski site in japan.
It's upside down image is printed in 1000 yen note.
The first women to climb Mount fuji disgused her self as a man.
TOKYO
HISTORICAL AND GEOGRAPHICAL BACKGROUND
The original name of Tokyo was edo and it is considered as one of the most beautiful places in japan.
The foot print's of Tokyo are  way back to 4,000 years
The road's in Tokyo were made by round stones.
The darkest year 1923,on which a earthquake hit the Tokyo caused fire which burned the city to the ground.
The earthquake was named as Great Kanto Earthquake.
There were over 140,000 people reported dead and over 300,000 housed were destroyed .
In september 2013,Tokyo conducted the olympic & paraolympic games in year 2020.
Situated in northwest of Tokyo bay in the kanto region which is centre of japanese archipelogo
The river named sumidariver & toma river are the major river flowing in Tokyo.
The average temperature in january and february is about 5 degree celcius making these the coldest month of Tokyo.
The summers are very hot & humid.
Somoie yoshino is Tokyo's official flower.
Gingo is Tokyo's official tree.
Black-headed gull is Tokyo's official bird.
The official symbol of Tokyo's official bird.
The official symbol of Tokyo was adopted in june in the year 1989.
The symbol represent the Tokyo's growth & Tranquality.
HOW TO GET THERE
In early period reaching Tokyo was really hard.
But it's really very easy to get there.
It's does not matter which mode of transportation  you use ,each and every mode of transportation is really eaasy & accessful.
If you are living in other country ,then you need to fly to narita airport.
Narita airport is near to perfecture of chiba .
The airport is more close and centrally located to Haneda airport.
Here are the mode of transportation which you can use.
1.BUS
One special thing about Japan is it's express buses, which will take you to longer distances at really cheap rate.
So buses are really best mode if you reside near around Tokyo.
The express are well equipped with modern technology and ahev really good facilities.
Shinjuku express is the biggest Bus Terminal in Tokyo.
  2.BY TRAIN
In japan most of travelling are done by using train's .
The shinkusen(bullet train) is the best option to tarvel to Tokyo from every city in the country.
It is well connected to each and every individual cities.
If youj are in Kagoshima which lies in the northen islands of Hokhaido,which is a network of sleek and speedy train across the country.
3.BY PLANE
If you are from other country ,then you need this mode.
If you are within country and have time constraints then you as well need this mode.
For one's from other country there are directly flight available which fly to Narita and Haneda airport.
As soon as you arive to the country you can use above mode for travelling.
ACCOMODATION
Staying in Tokyo is not challenging.
You can find lots's of hotels where you can stay while you are in tokyo.
HOTELS 
Shinagawa prince hotel
Serving more than 15 types of food and beverages, having it's own swimming pool and aquarium and 2 swimming pool's makes it's one of the best hotel where you can stay.
It is near JR Shingawa Train station.
The location of this hotel makes it really accessible.
     2.APA Hotel Shinjuku_kabukicho Tower
The hotel is well equiped with modern tech.
Offers hot spring.
Located in shinjuku ward
      3.Mitsui Garden hotel Roppongi Premier
It offers wifi connection at each and every places wuthin the hotel.
It's highly recommended and its the cleanest hotel in entire Tokyo.
It is easily accessible .
It's distance from Roppongi itchoem station is really less
Getting taxi is really easy.
Room are here as per japenese standards.
     4.Hotel Sunroute Plaza Shinjuku
It is located at central shinjuku railway station at walking distance
It offers satellite Tv with free wifi connections.
     5.The Knot Tokyo Shinjuku
Located in Shinjuku ward.
It is affordable and best at it's rate.
AMAZING FACTS 
It is the largest metropolitan area in the world.
First olmypics was held in year 1964.
Shinjuku station is the busiest station in the world.
Tokyo tower is one of most popuar land mark.
It has its own disney land and a park which exist no where in the world.
The cherry blossom is th unofficial name of the flower.
It's original name was Edo.
In year 1962 Tokyo made the world record of having largest population in the world.
Crime rate is very low making it safest place for tourists.
Shopping here is considered to be the best because it's Tax free.
KYOTO
HISTORICAL AND GEOGRAPHICAL BACKGROUND
It is the oldest and third largest city of japan.
It is said that it had it's golden age in year 794
It was called as heart of japan .
The name Kyoto means capital city and it still have that name.
Kyoto is located in norht central system.
HOW TO GET THERE
Kyoto is really famous and well known places so getting there is not big deal.
It is faciliated by all travelling modes.
The airport near to Kyoto are kamasai and osaka.
The kamasai and osaka international airports have many world wide airline operation particulary for air asia.
BY PLANE
The kamasai and asoka airport are the port which are located near to kyoto
Generally to get kyoto only these two are used.
BY TRAIN
Tokyo is connected to kyoto by JR Tokaido Notomi, trains requires almost 140 minutes.
Hikari Trains takes about 160 minutes and kodama train takes about four hours .
The cost from tokyo to kyoto is 13,200 yen.
BY BUS
The one way trip from Tokyo to kyoto by highway takes about 5 hours.
There is the facility of day time and over night buses .
There is a Bus express called willer express.
The express cost about 3500 yen while premium buses charge upto 10,000 yen.
ACOMMODATION
Kyoto is one of the most visited place of japan.
There are really well good hotel's and restaurant that one should surely go.
Some of the best hotel's where you can stay in kyoto are
1.TUNE STAY KYOTO
Well located in the centre of kyoto .
The rooms here are air condtioned and free wifi connection is also available
The hotels provide facility of store house and 24×7 front desk.
The room's are really beautiful stylish and sleek,
2.TSUKU KYOTO SANJO BY SHARE HOTELS
It has air conditioned having flat screen TV in the Nakagyo ward district.
It also provide free wifi connection
It has a restaurant and well as well a shared kitchen
The best part is that it has number of famous land mark which are near by to it.
Kyoto International manga museum which 800 m away.
Samurai kembu Kyoto is 1.8km away from the hotel.
The nearest airport from the hotel is the itami airport.
It is a clean, modern and new hotel
3.HOTEL VISCHIO KYOTO BY GRANVIA
It is a boasting fitness centre.
It is about 1.1 km from TKP garden city in the kyoto region.
It has free wifi connection provides storage and shared kitchen.
It also have family rooms.
It also have public bath room.
It also provide buffet breakfast which is available each morning in the accomodation.
Every thing is clean and hygenic in this hotel meals provided here are fresh.
4.THE THOUSAND KYOTO
Buffet breakfast are given here every morning.
The hotel is 200 m away from thousand kyoto hotel.
The nearest airport from this hotel is itami airport.
Itami airport is about 40 km away from the hotel.
The architecture and design of entire Hotel is really awesome.
5.WEBASE KYOTO
Set in kyoto,hotel is 1.6km away from international manga mesium.
Webase kyoto offers air conditioned accomodation and also provide shared lounge.
There is wifi connection and as well a shared kitchen.
The hotel is well recommended for solo travellers.
AMAZING FACTS
It was the capital of japan for more than 1000 years.
The original name of kyoto was Heiankyo.
8th most populated city of japan.
Due to it's historical importance americans avoided bombing the city.
kyoto has more than 1650 temples.
It is the only city in japan where consumption of bread and cofee is more
The electric supply here is of only 100v.
It has over 30 collges.
There are about 3 palaces and one castle in kyoto.